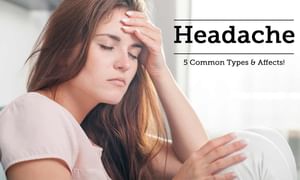 One of the most common neurological conditions men and women suffer from is a headache. Headaches usually vary in terms of location, intensity and duration and may be treated with simple home remedies or over the counter medications. One of the most renowned types of headache is known as a migraine. Other common types of headaches include sinus headaches and tension headaches.
Migraines: Migraines are very painful headaches that may be accompanied by a feeling of nausea, vomiting, increased sensitivity to light and a pounding pain in the head. They are caused by a change in concentration of neurotransmitters in the brain which in turn make blood vessels expand thereby bringing on a migraine.
Tension headaches: The pain of a tension headache is considered mild or moderate in comparison to migraines. This type of headache is characterised by throbbing pain on both sides of the head and pain in the neck and behind the eyes. Tension headaches are caused by the contraction of muscles in the head and neck.
Cluster headaches: Cluster headaches are characterised by a series of short yet intense headaches that may occur every day or several weeks or months. In most cases, they recur on a seasonal basis i.e., people tend to get them at the same time of the year. The pain caused by cluster headaches may be more severe than that of a migraine but these headaches do not last as long. They are caused by the activation of a specific nerve pathway that is responsible for facial sensations. Cluster headaches are the most uncommon type of headaches.
Rebound headaches: In most cases, a headache can be cured with over the counter remedies. However, excessive or incorrect use of these medications can cause a rebound headache. These medications may trigger another headache when their effect wears off. This makes the person retake the medicine leading to a vicious cycle. Rebound headaches are most often caused by medicines that contain caffeine.
Secondary headaches: While the above types of headaches are categorised as primary headaches, a headache that is caused by another condition is known as a secondary headache. Secondary headaches are commonly caused by severe hypertension, sinusitis, pharyngitis and other types of head trauma. Tumours, subdural hematoma or other conditions that take up space in the head can also cause secondary headaches. Secondary headaches are a greater cause for concern than primary headaches and should not be ignored. If you wish to discuss about any specific problem, you can consult a Neurosurgeon.